Spoiler: listing the best places to visit in Spain in one only text is quite an impossible task! Spain is filled with history, culture, gastronomy, landscape and nature. From the best museums to the prettiest National Parks, with the richest Roman ruins, top recognized restaurants, pristine beaches, acclaimed wines and incredible festivities and cultural scene: Spain has it all. Not in vain it is one of the top destinations in the entire world.
What are we going to do here? Well, we are going to give you a short list of the best Spanish cities and places we think you can't miss if you are planning a visit. The Spanish musts. And because every single cool city to visit in Spain has a rich tradition in wine and this happens to be our favorite topic, we are going to link the best places to visit in Spain with their surrounding wine making regions in just one post! What a match!
To the North East: Catalonia
Well guys, we start easy, since this is where we are based! A visit to Spain frequently starts or finishes in Barcelona, capital city of the Catalan culture and territory. Take Barcelona as your base city from where to explore the entire region: Catalonia has so many incredible places to visit. Yes, one can spend days discovering everything this city has to offer, and you should still pay a visit to La Sagrada Familia, the Gothic Quarter, the museums in Montjuïc and the amazing gastronomical offer in the city.
But there's more to it than La Sagrada Familia! Take a train, join a tour or rent a car and go south to visit the gorgeous Art Nouveau inspired fishing village of Sitges, only 30 minutes to the south. Or go up north to visit Girona, a province capital city with the richest medieval history and gothic quarter and cathedral. From Girona, you only need to travel a bit east to hit the famous Costa Brava, with as many medieval towns as tiny fishing villages and beautiful beaches. Figueres and its Dalí Museum, Cadaqués in the Natural Park of Cap de Creus, or Tossa de Mar and its amazing cobble stoned medieval core are just a few examples!
Down to the south Tarragona will give you Roman ruins and lots of history, as well as being the entrance gate to one of the best Spanish wine making regions: DOQ Priorat! Make sure you don't miss this region's reds while in Catalonia, as well as DO Empordà when in Costa Brava, our the famous Catalan cavas from DO Penedès while in Sitges!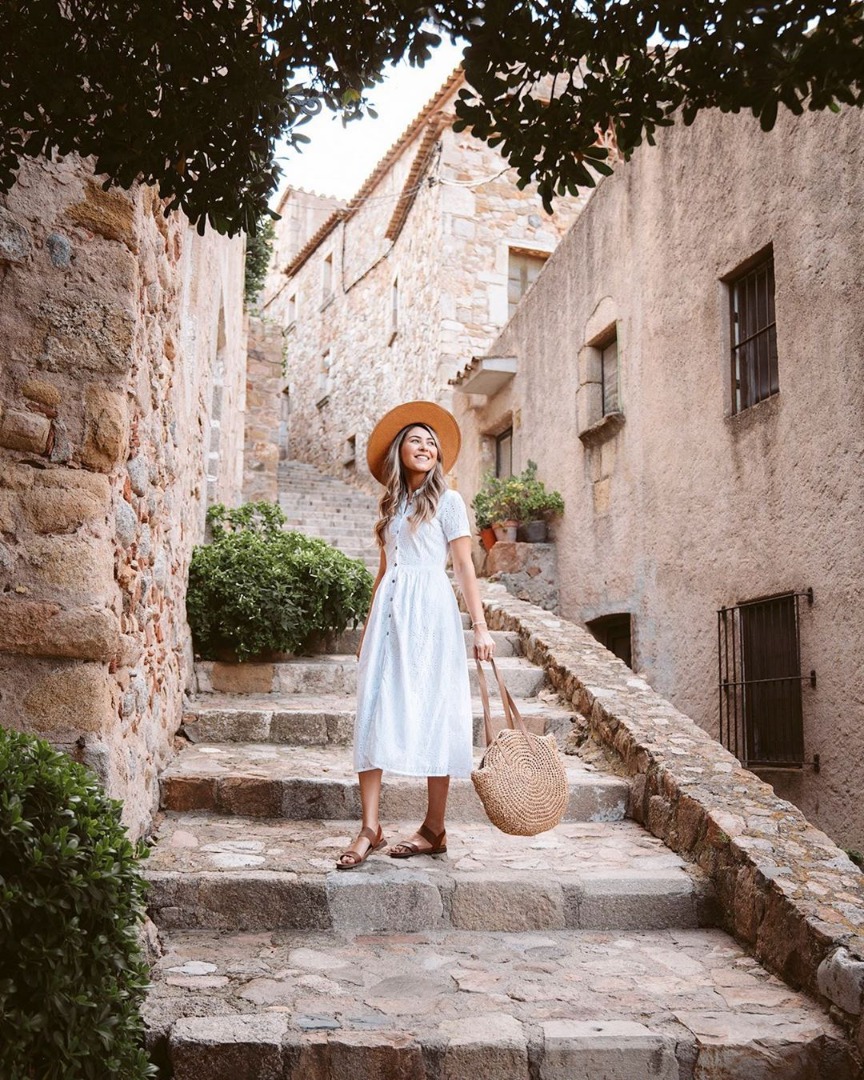 Tossa de Mar - Pic by @reneeroaming

To the South: Andalucía
Okay, 180 degrees turn to the south! Andalucía is one of the biggest regions in which Spain is divided (it is divided in 19 Autonomous Communities), and it hosts just too many of the best places and cities to visit on your journey. You have three Andalusian capital cities here to use as base camp. Choose between the folkloric and historical Sevilla with its Giralda, capital of the region, the smaller Córdoba with its grand mosque or the romantic Granada and its Alhambra. To be honest, the three of them are absolute musts. Let your imagination fly to the medieval clashes between moors and Christians, Castile and Al-Andalus, while you travel the best and most historic places in Andalucía. From Sevilla, travel south to Cádiz to breathe in the Atlantic Ocean and lose your mind eating the best fish in this Spanish cultural white jewel. From there, explore the entire province of Cádiz and its famous white villages. The best food, the best folklore, and the most pristine villages (Ronda, Grazalema, Vejer, Setenil or Arcos are just some of them: look these up!), either in the country or in the beach, are found between Cádiz and Málaga.
You can also do something similar from Granada, whose super rich Al-Andalus medieval heritage can't be missed in the Alhambra. This city sits at the entrance of an alpine National Park, that of Sierra Nevada. This mountain range is filled with tiny white mountain villages, especially in its south face: the Alpujarra. If you are into National and Natural Parks, you should travel from here to Almeria, another capital of province in Andalucía, entrance door to Cabo de Gata Natural Park, an amazing rocky landscape filled with bare beaches, hippie heritage and astonishing views.
What beautiful wines should accompany you on this Andalusian journey? Easy! The province of Cádiz is well renowned for its fortified wines! We bet you heard of Sherry before. Well, dive here in its cradle! Manzanillas and Finos, Amontillados and Olorosos, Cream Sherries and Pedro Ximenez… find the best of them in Cádiz, Jerez, Puerto de Santa María and Sanlúcar de Barrameda towns and visit the very wine cellars where they are made.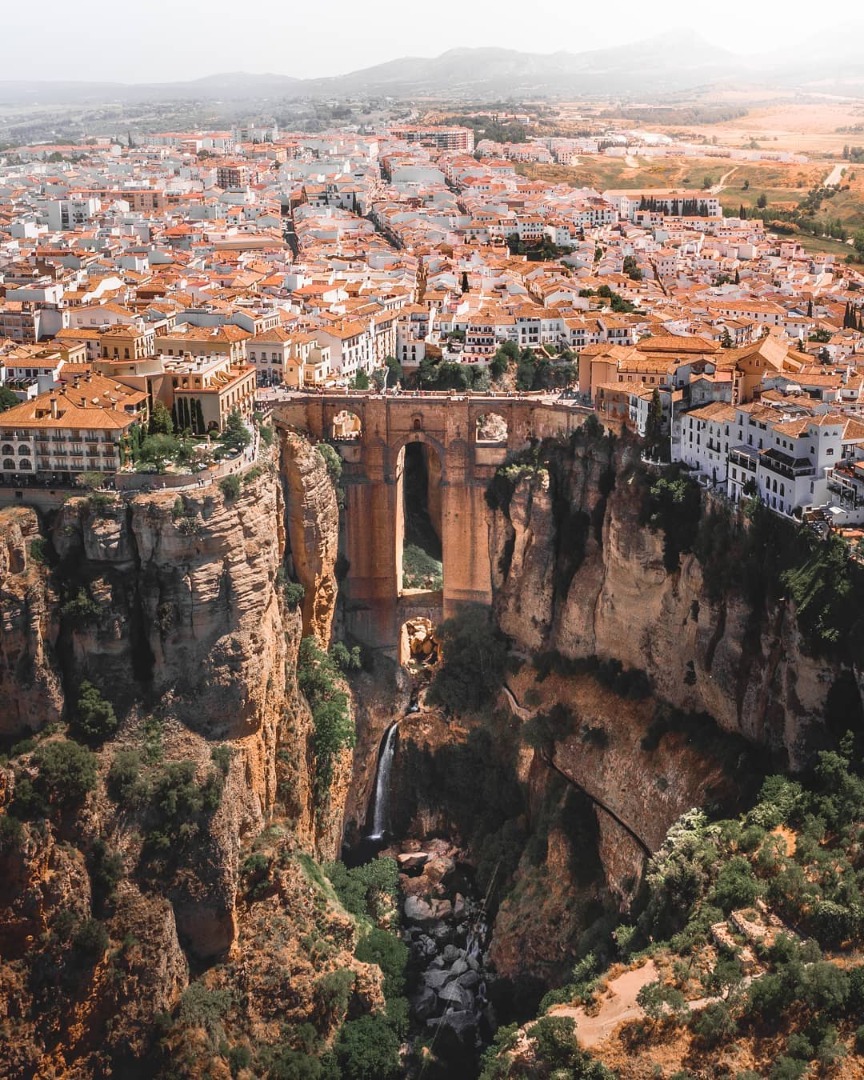 Ronda - Pic by @langer_danger

Right at the center: The Castiles and the capital
Let's travel to the core of Spain now. If you land in the capital city, Madrid, you should take your time enjoying its plazas and huge art museums. After this is done, though, we suggest you start your diving into the old Castiles, two Spanish autonomous communities with the best medieval towns in Spain to explore, from where middle aged Christian kingdoms struggled their conquest southwards, building great castles and walled cities along the way. Castilla y León, to the north of Madrid, will give you Segovia, Salamanca, Burgos or Ávila, amongst many more. Castilla la Mancha, south of Madrid, has Toledo or Cuenca waiting for you. Do yourself a favor and don't miss the tons of history, plazas de toros and medieval architecture Toledo and Segovia have ready to be shed on you. You won't believe your eyes while visiting these cities. Middle aged grand architecture and so, so much history and culture.
And as you educate yourself, please, don't forget to swirl that glass of red in your hand, fancily. You sit in a plaza at the core of a country with more than 60 different wine making regions. One of its most famous ones, DO Ribera del Duero, is very nearby. We know you have heard about DOQ La Rioja already and you think that's where Spanish reds end but, please, explore at least this one too and ask your waiter for a nice aged Ribera red. If you want to see it by yourself, a visit to Aranda del Duero, not that far from Madrid, is a must.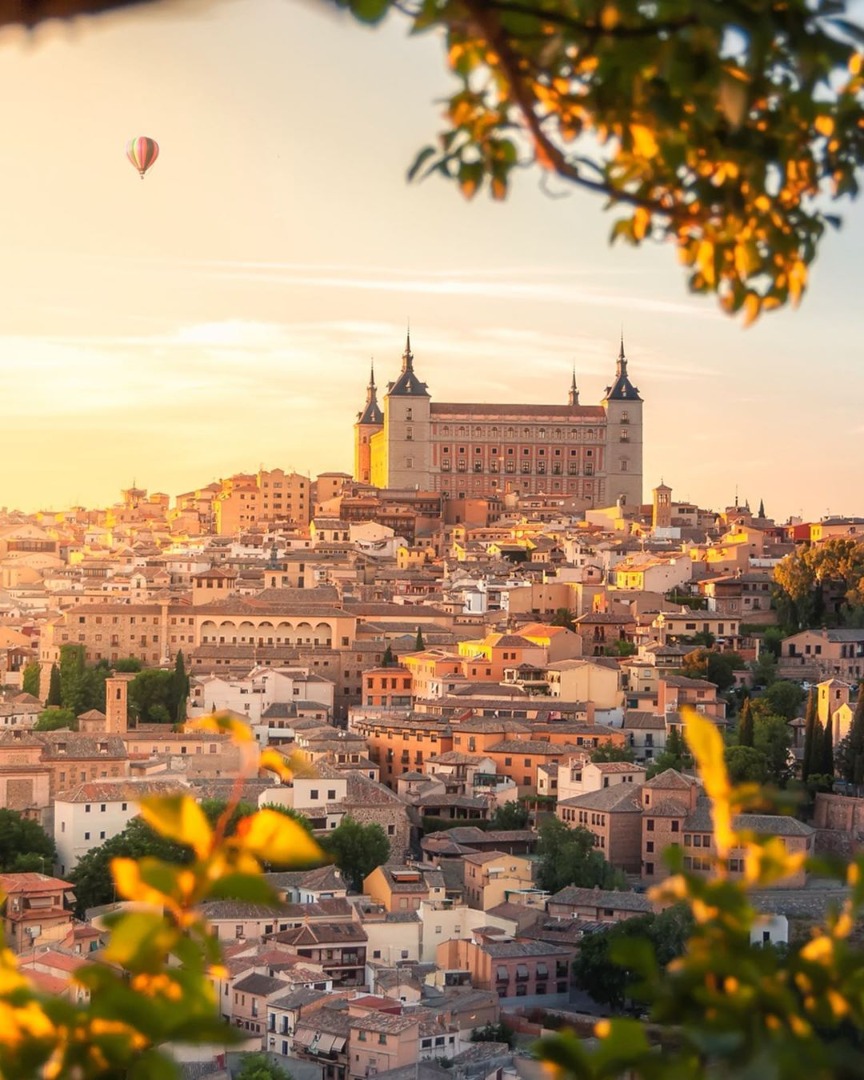 Toledo - Pic by @manuelo_bo

Explore the Green North: Galicia and the Basque Country
Land in Santiago de Compostela, in Galicia, and be welcome into this historic region, a cliffed paradise filled with green hills, white wine and one of the best places to eat seafood in the country. Think of Spanish regions of Galicia, Asturias, Cantabria and the Basque Country as the Spanish Scotland and you won't miss!
Santiago de Compostela is the end of the religiously famous Camino de Santiago and, because of this, it will give you old Christian grandeur. It will also serve as an entrance door to a very rich culture that has evolved facing the fierce Atlantic Ocean. An amazingly rocky coastal landscape matches here with some of the most famous Spanish whites, made greatly out of Albraiño variety in regions such as DO Rías Baixas or DO Ribeira Sacra.
The north has much more to often and if landing in Galicia seems too far for you, you can try and land at the heart of the Basque Country, in famous cities such as Bilbao or San Sebastián. Or you can link both regions on an amazing road trip across the lush and green northern Spain, driving along the beautiful and hilly regions of Asturias and Cantabria. Cities like San Sebastián can't be missed in a list about the best places to visit in Spain. San Sebastián is a wonderful city built towards the sea and can give you some of the best Spanish cuisine, cultural activity throughout the year and glorious surf amongst many more things.
And of course, they also have a particular wine you shouldn't miss at the Basque Country! Dive into the world of txacolí, the northern white wines that are popular across the entire Spanish country, all along with their Ciders! Three different wine making regions specialize in txacolí up here. Taste them all while eating the best pintxos in town!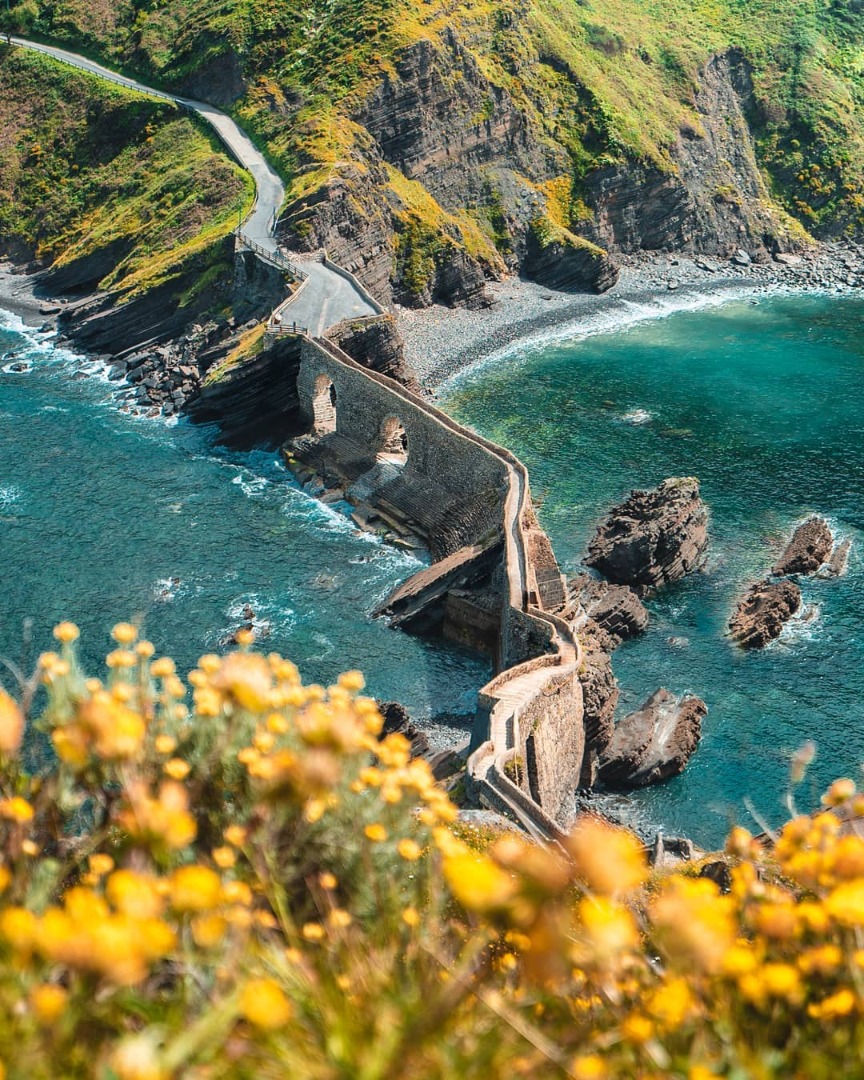 San Juan Gaztelugatxe - Pic by @langer_danger
Explore the Spanish Alpine Landscape - The Pyrenees
Spain is more than beach, sangria and flamenco! Some don't believe it, but Spain hosts the most gorgeous alpine landscape and many ski stations in the European looking Pyrenees mountain range. This separates Spain from France, and it covers the northernmost sides of Catalonia, Aragon and Navarra autonomous communities, from east to west. If you decide to explore the Pyrenees, you'll find so much trek and hike, lakes and snow, alpine flowery valleys and rivers and creeks. In some of its valleys you will also find the oldest Romanesque architecture; medieval churches in tiny isolated mountain villages will make you dream of the old and forsaken early medieval Christian kingdoms of these lands when most of nowadays Spain was a Muslim kingdom, centuries ago.
And no matter what part of the Pyrenees you trek, you will never be far from a wine making region! DO Costers del Segre in Catalonia, DO Somontano in Aragón or DO Navarra and the super famous DOQ La Rioja on the westernmost end will guarantee a permanent flow of red wine to wash the best Spanish mountain food down.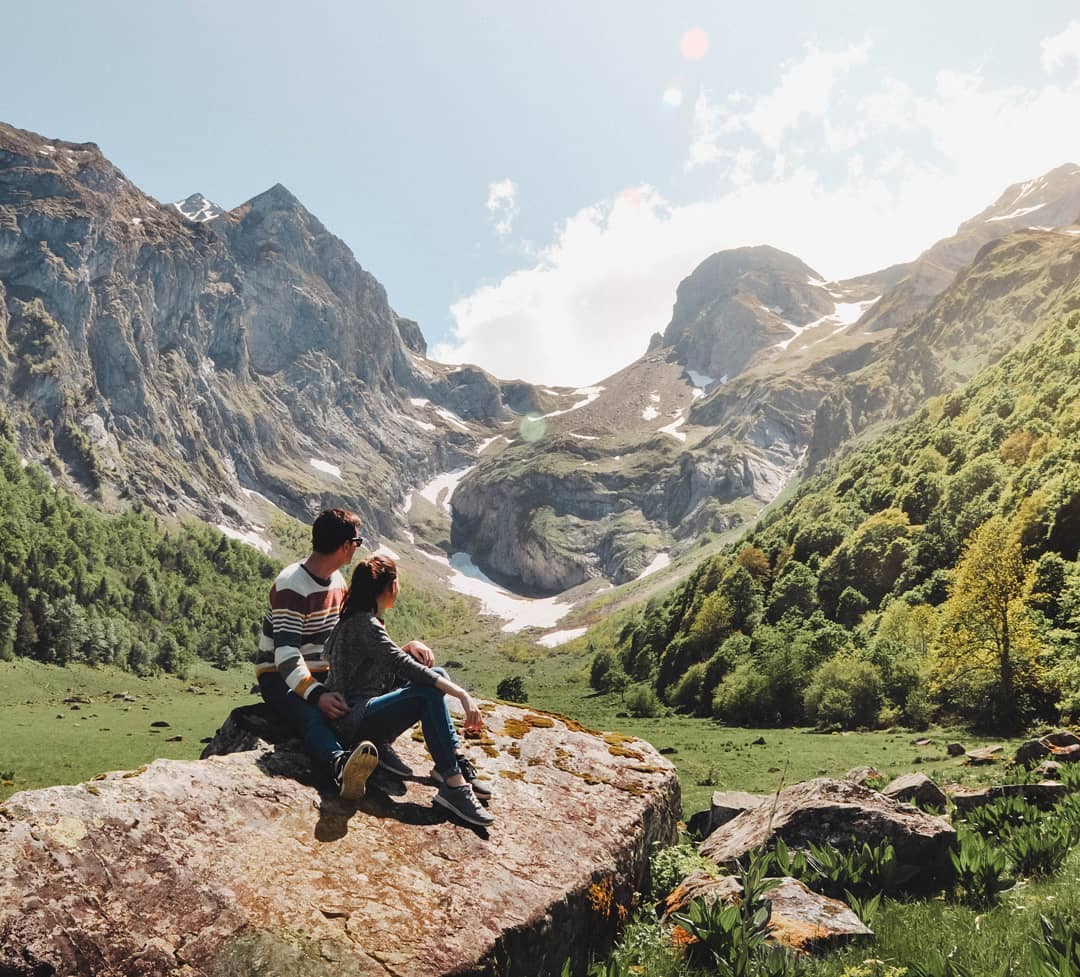 Catalan Pyrenees - Pic by @larasanmarti

Explore the Spanish Archipelagos 1/2 - Balearic Islands
Yes, we know you've heard about Ibiza and some of you can't disassociate Spain from its beaches. Okay then, meet the rest of the Balearic Islands! Clubbing scene aside, these beautiful islands can give you the Mediterranean paradise you've been looking for. Depending on your approach you will choose one of the four main islands that compose the Balearic archipelago: Mallorca, Menorca, Ibiza or Formentera. Indulge yourself into a full laid-back Mediterranean touch by finding that crystal clear beach you've been dreaming about. But don't forget to grab that bottle of Mallorcan red before you do so. There are two different wine making regions in Mallorca for you to discover!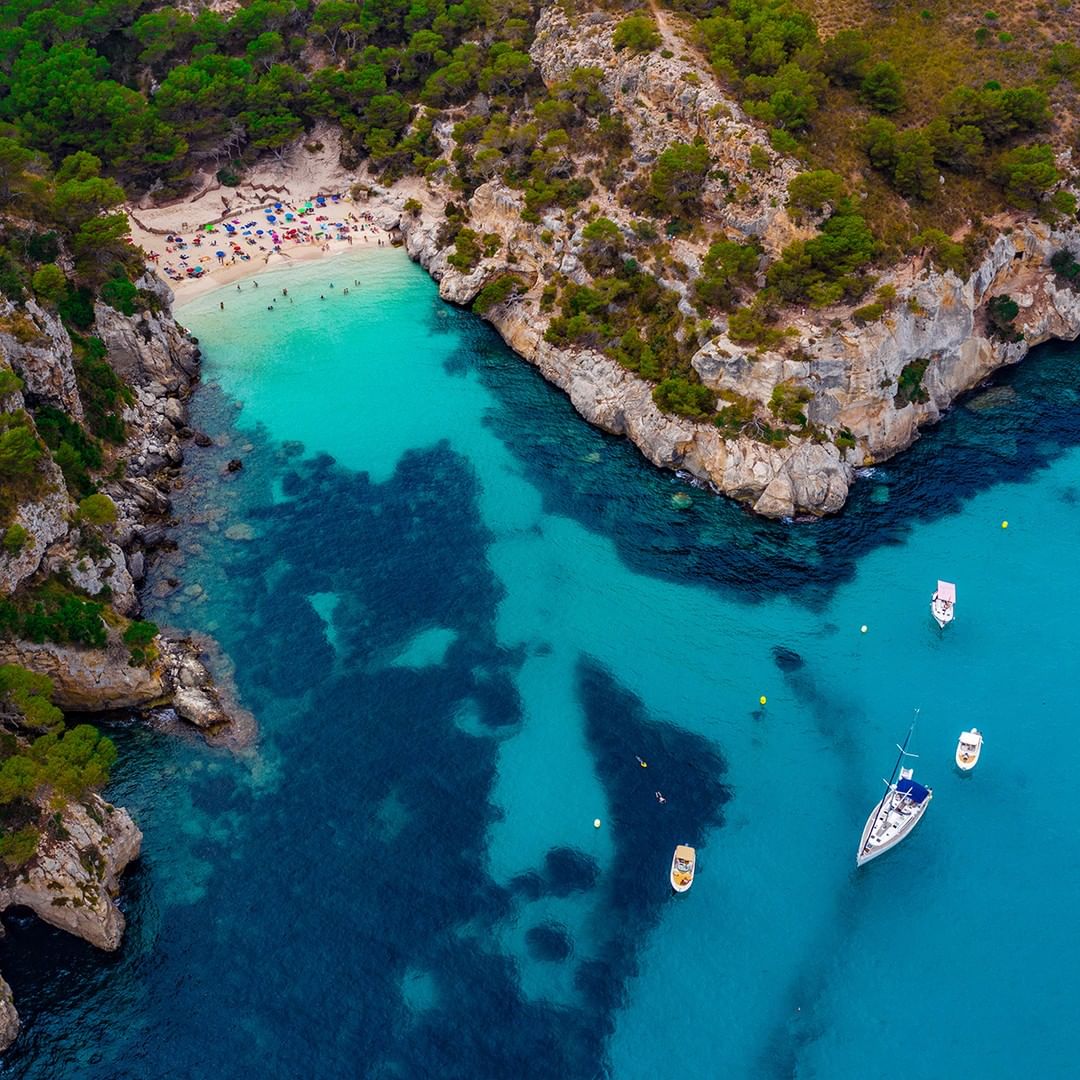 Menorca beaches - Pic by @turismomenorca


Explore the Spanish Archipelagos 2/2 - Canary Islands
Okay guys, we reach the southernmost edge of Spain as a political entity. Geographically, this has nothing to do with what you've seen in the country so far. And this is why you can't miss it. Fly south to admire the most astonishing volcanic landscapes that await in this culturally rich archipelago of incredible beaches, amazing National Parks, rich geological value, incredibly diverse ecosystems and, yes, exceptional wine. The Canary Islands deserve a visit on their own and they embrace so many different ecosystems and soils that you can find around 10 different wine making regions in it. Get yourself a glass of the funkiest Lanzarote white and say goodbye to your Spanish adventure as the sun sets over the sea.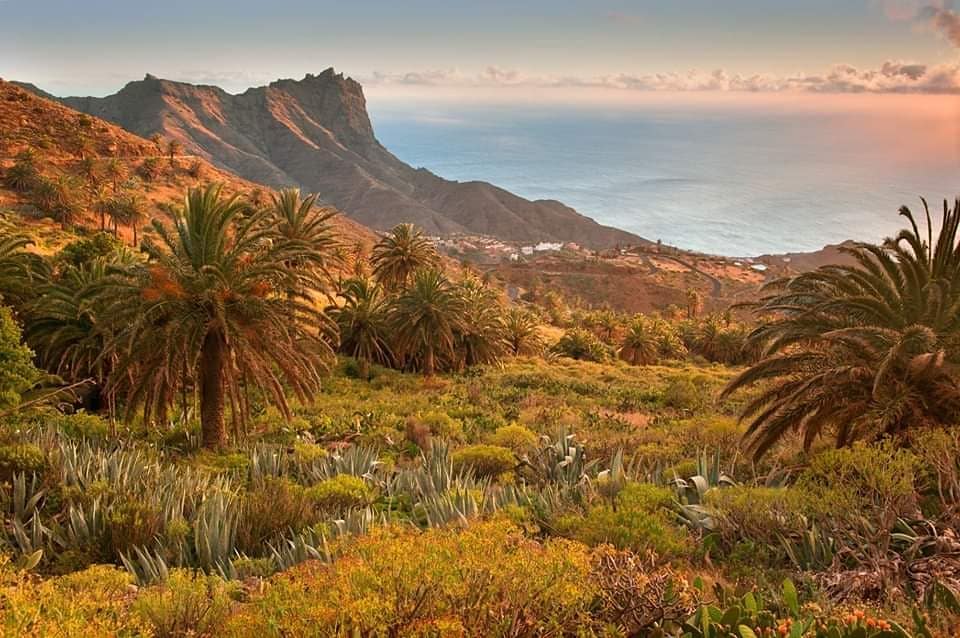 Tenerife - Pic by @hellocanaryislands
The list never ends. Giving you the best places and cities to visit in Spain is certainly impossible and we admit there are some important spots missing! We have left much Roman incredible heritage, many gastronomic capitals and many cultural pearls uncovered, but we can't make a book out of this! Use this article as an approaching guide to the different regions and cities to visit in Spain, and also to their attached wine culture! It should give you an idea at least on how to structure your itinerary and, most important, how many empty suitcases you should bring so to fill them with wine bottles before you head back home.

Cheers!