Barcelona is one of the most cosmopolitan and multicultural cities in Spain, hosting in its heart people from all corners of the world that bring a unique character to the city, mixing traditions and ethnicities that enhance our urban landscape.
We know from our own experience that the best way to get to know a new place is through its gastronomy, and for sure, Catalan cuisine is spectacular, but given that Barcelona has this particular cultural richness, it is very easy to find places, restaurants and bars where to taste an exquisite piece of the other side of the world without having to go too far from home.
If you are one of those adventurers without fear of trying new things and you want to literally eat the world, here goes a list with the best places in Barcelona to enjoy foreign cuisine:
1. Japanese cuisine: Koku Kitchen Ramen
This place in the emblematic neighborhood of El Born will surprise you in the first place for its decoration and design, which at times resembles a metro station. The restaurant has two floors, the first one being dedicated to baos, gyozas and other typical appetizers. However, when you access the basement, you'll discover what this local owes its fame to: Ramen noodles.
The lower floor, with a long table to share with the other diners and a dim light, creates the perfect atmosphere to enjoy a huge portion of noodles as if you were in a bustling restaurant in Tokyo downtown.
All possible combinations are delicious, so we only have one tip to offer: make sure you are VERY hungry before you go.

2. Mexican cuisine: Tlaxcal
Very close to the previous restaurant we'll find the one that could be, with total security, the best Mexican restaurant in Barcelona.
At first glance, you'll notice that the decoration is not too special, since it is a very simple space, but pay attention to the walls, which are full of very detailed "instruction manuals" so that you learn to eat fajitas and burritos like a true mariachi.
There's no such thing as "Tex-Mex" here, on the contrary, you'll only find Mexican food and drinks that follow the purest traditional style, with a wide menu full of fascinating combinations and ingredients.

3. Italian cuisine: L'antica Pizzeria da Michele
If there was a Bible of the pizzas, this pizzeria would appear in the first chapter of Genesis, since it is not only a pizzeria that offers generous and exquisite portions, but the original restaurant, located in Naples, is the place where the pizza margherita was made for the very first time.
Given the huge population of Italians in Barcelona, ​​the owner of the Neapolitan pizzeria decided, just a few months ago, to open the same restaurant here without renouncing the classic ingredients and the unsurpassed quality of the original pizzeria.
All the employees are Neapolitan, and in the menu, you'll only find four different pizzas, as they strictly follow the Italian traditions. So, don't you dare asking for a BBQ chicken pizza!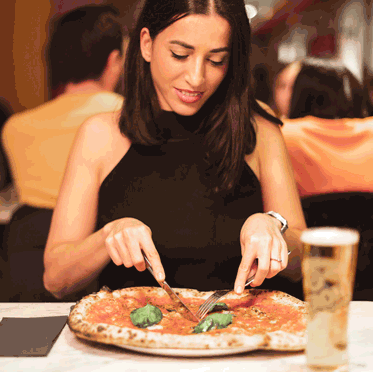 4. British cuisine: The Fish & Chips Shop
Directly from England we get this interesting Street Food-styled bar, with battered fish and fried chips perfectly seasoned served in the classic newspaper cone, and always accompanied by two dips: tartar sauce and mango chutney.

Nevertheless, this place also has starters that fuse the British style with Spanish, Chinese and American cuisine, turning the whole experience into something much more unique and innovative.

What surprises us the most, however, is its interesting vegan option: Avocado & Chips! With huge pieces of freshly battered avocado... Do you dare to try it?

5. Libanese cuisine: Arabia Café-Restaurante
And finally, we cannot skip one of the most popular options in this city and throughout Spain. Arab and Lebanese food.
This place is worth visiting just for its decoration, since it will make you forget that you are in Barcelona to transport you to a Middle Eastern country. There are even natural palm trees inside! And of course, the food matches up to the magical design, with an extensive menu of typical dishes from several Arab countries.
If you're brave enough, you can even ask the waiters to surprise you with an exotic dish. Surely it will not leave you indifferent.



And now you know! If you want to escape from the classics, travel the world without leaving Barcelona and dare yourself to try something new, none of these places will disappoint you. Guaranteed!
Luis Santana - December 2018